---
THE CRYPT of SAINTS MATTHIAS, EUCHARIUS, and VALERIUS
---
THE abbey church has been an important pilgrimage-destination since the middle ages: more than 10,000 pilgrims come to the abbey annually to venerate the shrine of St. Matthias. Pilgrim-Shields are displayed on columns adjacent to the entrance to the Matthias-Crypt. These have been offered by towns and organizations that regularly make pilgrimages; some date from the seventeenth century. The Crypt of St. Matthias contains the saint's relics as well as the sarcophagus-reliquaries of Saints Eucharius and Valerius.
---
SAINT MATTHIAS (c.1480)
(Reliquary and Crypt Immediately Beneath)

PILGRIMAGE- SHIELDS
---
| | |
| --- | --- |
| | |
| ENTRANCE to the MATTHIAS-CRYPT | RELIQUARY of SAINT MATTHIAS |
---
| | |
| --- | --- |
| | |
| SARCOPHAGI of SAINTS EUCHARIUS and VALERIUS (Archbishop-Founders of the Diocese of Trier) | CHAPEL in the MATTHIAS-CRYPT |
---
IMAGES and STATUES of SAINTS in the ABBEY CHURCH
---
IMAGES and STATUES of SAINTS in the ABBEY CHURCH
---
THE Church of St. Matthias is considered a marian shrine, and contains a Gnadenbild, an image of the Blessed Virgin Mary that inspires particular devotion, since it depicts the pregnant Mary, gazing in contemplative wonder at the child she carries.
---
MARIAN SHRINE
(Shadow of Holy Cross Reliquary in window above shrine);

MARIAN CHAPEL
---
---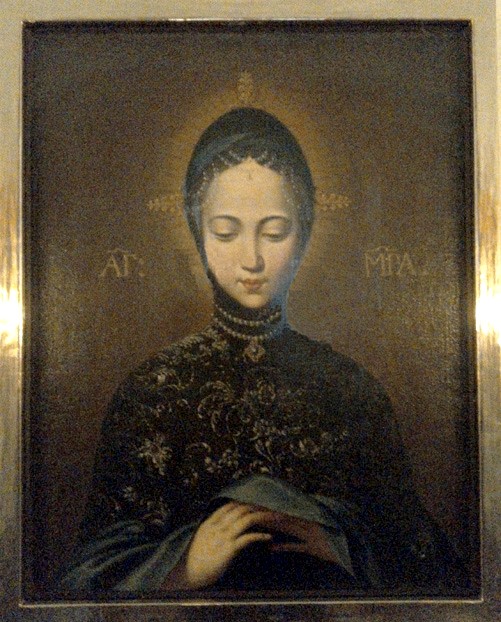 GNADENBILD: IMAGE of the BLESSED MOTHER
---
STATUES of Saints in the abbey church include Saints Anne, Antony of Egypt, and the founders of the Diocese of Trier, Saints Eucharius, Valerius and Maternus. These statues and bas-relief were formerly part of side-altars that have been since transformed into smaller niche-shrines. Also found in the abbey church are a statue of Saint Benedict and a depiction of Pope Saint Stephen III, as well as a Traubenmaria, a statue of the Blessed Virgin Mary offering white grapes (the special product of the region surrounding Trier) to her infant Son.
---
| | |
| --- | --- |
| | |
| ST. ANNE SHRINE (formerly baroque side-altar) | THE BLESSED VIRGIN, CHRIST, and ST. ANNE |
---
TRAUBENMARIA (1480)
Madonna of the Grapes

THE COMMISSIONING of Saints Eucharuus, Valerius, and Maternus, and the
Miraculous raising of Saint Maternus from death with the staff of St. Peter.
---
| | |
| --- | --- |
| | |
| ST. ANTONY SHRINE (formerly baroque side-altar) | SAINT ANTONY of EGYPT |
---
ST BENEDICT (c.1500)

POPE ST. STEPHEN III as PEACEMAKER
(intervening to prevent war between Roman factions)
---
---
---
---
xcxxcxxc F " " This Webpage was created for a workshop held at Saint Andrew's Abbey, Valyermo, California in 2015....x.... ' "".