---

TRIER
RHINELAND-PALATINATE,
GERMANY
March 11-26, 2015


Trier: The Roman Porta Nigra (Black Gate)
---
---
TRIER is an ancient Roman city on the River Moselle in Germany, near where the borders of present-day Germany, Luxembourg, and France touch. Founded in the late first century BC as Augusta Treviorum, Trier may be the oldest city in Germany. In addition to its commercial value, the city helped maintain and defend the Germanic frontiers of the Roman Empire. In the third and fourth centuries Trier, together with Milan, often served as the western residence of the later emperors, particularly the Emperor Constantine and his mother, St. Helena.
---
ROMAN WALL (1st c.)

PORTA NIGRA (Black Gate)
Ancient Northern Roman Gate into Trier (c. 190 AD)
---
| | |
| --- | --- |
| | |
| BASILICA of CONSTANTINE (4th C.) | KAISERTHERMEN (Imperial Baths) |
---
---
THE central chapel of the Trier Cathedral is made of Roman brick, and was commissioned in the fourth century by St. Helena, mother of the Emperor Constantine. Destroyed first by the Franks and later by the Vikings (in 882) it was restored by Archbishop Egbert around 990, and the present facade was completed in 1196. The baroque chapel in the apse houses the purported relic of the Tunica Christi, the seamless robe of Christ, which is seldom displayed for veneration. During the middle ages the Archbishop of Trier was important in both Church and state as a Prince-Elector of the Holy Roman Empire.
ADJACENT to the cathedral is the beautiful Liebfraukirche, the Church of the Blessed Virgin. Probably the oldest Gothic church in Germany, it was constructed around 1230.
---
---
TRIER CATHEDRAL
(Liebfraukirche on extreme right)

LIEBFRAUKIRCHE
(Church of the Blessed Virgin)
---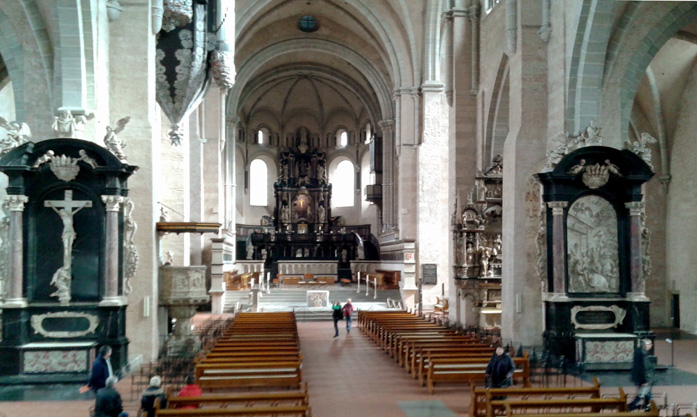 CATHEDRAL NAVE, CHOIR, and APSE
---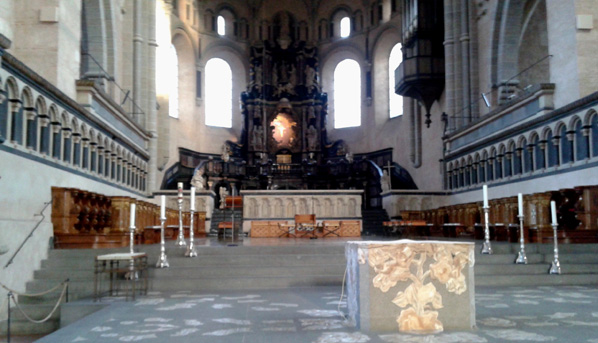 CATHEDRAL CHOIR, and BAROQUE APSE-RELIQUARY
---
CATHEDRAL CHOIR and NAVE
(viewed from the baroque Reliquary of the Tunica Christi)
---
BAROQUE APSE-RELIQUARY

TOMB of Johann Philipp von Walderdorff
Archbishop of Trier, and Prince-Bishop of Worms (d. 1768)
---
LIEBFRAUKIRCHE (c. 1230)
(Church of the Blessed Virgin)

PORTAL of the LIEBFRAUKIRCHE
---
| | |
| --- | --- |
| | |
| CHOIR, and APSE of the LIEBFRAUKIRCHE | APOSTLE-COLUMN |
---
"JUDENGASSE"
(Medieval Jewish Ghetto)

SEMINARY of the ARCHDIOCESE of TRIER
---
MEDIEVAL "FAMILENTURM"
(Single-Family-Dwelling Tower)

WORLD WAR II WEAPONS-DEPOT
(Disguised as Medieval Tower "to fool the enemy")
---
---
xcxxcxxc F " " This Webpage was created for a workshop held at Saint Andrew's Abbey, Valyermo, California in 2014....x.... ' "".