---

THE HISTORY of
NATURAL FAMILY
PLANNING

---
---
Kyusaku Ogino


1. CALENDAR
RHYTHM
(Ogino-Knauss. 1930s)



Hermann Knauss
---
Two gynecologists, Kyusaku Ogino, in Japan and Hermann Knauss in Austria simultaneously published their observations that in women with regular cycles, ovulation precedes menstruation by a consistent period of 12-16 days. Their work led to the (sometimes ineffective) calendar rhythm method of birth control. Traditionally a woman noted on the calendar the onset of her menstrual period and used a set of calculations to determine the days in which she would be fertile.
| | |
| --- | --- |
| | |
| Ogino-Knauss Rhythm Method Calendar | Standard Days Beads |
---
---
A recent adaptation of the Calendar-Rhythm Method was developed at Georgetown University's Institute for Reproductive Health and introduced in 2002: the Standard Days Method is promoted in conjunction with a product called CycleBeads, a ring of colored beads which are meant to help the user keep track of her fertile and non-fertile days If pregnancy is to be avoided, abstention from intercourse is required from day 8-19 of the cycle. Calendar-based methods use records of past menstrual cycles to predict the length of future cycles. However, the length of the pre-ovulatory phase can vary significantly, and decrease the effectiveness of the method.
---

2. CONTRACEPTIVE TECHNOLOGY
1958-present
a. 1958, US physician Lazar Margulies develops the "Margulies Coil" Intrauterine Device; in 1964 Jack Lippes' ostensibly safer "Lippes Loop" became available.
---
| | | |
| --- | --- | --- |
| | | |
| Margulies Coil | Lippes Loop | Dalkon Shield |
---
---
b. 1960, the FDA approved distribution of the Enovid the first (estrogen-progesterone combination) contraceptive pill, manufactured by G.D. Searle and Company
---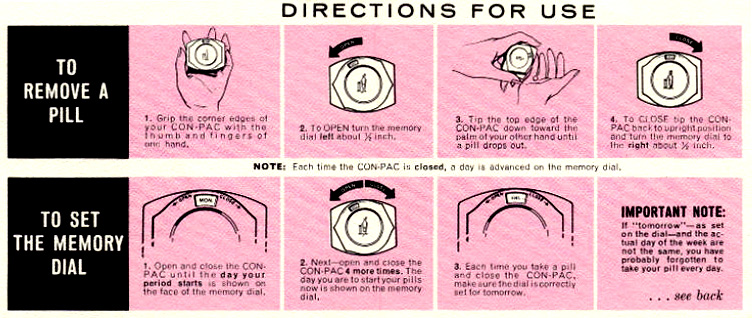 Enovid Instructions
---
| | |
| --- | --- |
| | |
| Enovid Chemical formulae | Enovid Packaging |
---
---
c. 1971 The "Dalkon Shield"introduced in 1971 caused numerous infections, sterility, and at least 17 deaths. It was taken off the market in 1974: legal settlements to victims and survivors totaled over three billion dollars
---
| | | | |
| --- | --- | --- | --- |
| | | | |
| Dalkon Shield | Copper 7 | Multiarm Copper 7 | Copper and progesterone IUDs |
---
---
---

3. HUMANAE VITAE PROMULGATED 1968

POPE PAUL VI:
---
---
John Marshall


4. BASAL BODY
TEMPERATURE
Charting


Temperature Chart
---
1940's -1960's: BBT charts collected and analyzed by researchers including: R. Vollman in the United States, G.K. Doring in Germany, B.Vincent in France, John Marshall in Britain and a team from the World Health Organization. Various methods of analysis and interpretation were elaborated: some very sophisticated, often often requiring complex mathematics and complete charts.
1960's – Present: A simpler form is developed by John Marshall and the World Health Organization, which was widely taught and practiced: the "coverline method" and "three over six" method: a trained couple simply had to observe three temperatures higher than the previous six to identify when ovulation occurred.
1971: The Couple to Couple League was founded by John and Sheila Kipley (http://www.ccli.org). They primarily teach the "SYMPTO-THERMAL" method of N.F.P., which emphasizes basal body temperature charting while also taking note of the mucus symptom that is the basis of the Billings or Creighton method described below.
---
---
John & Lynn Billings


5. THE OVULATION
METHOD 1964-1970


Billings Method
Cervical Mucus / "Billings Method"
---
In the 1950's Dr. John Billings of Melbourne, Australia began to investigate alternatives to Calendar Rhythm and the Basal Body Temperature method. both of which were often difficult to apply when the woman's cycles were long and irregular. From 1962 to 1964 Dr. Billings worked with Dr. James Brown, in studying and demonstrating the reliability of women's observations of their cervical mucus pattern in identifying fertility. In 1964 his wife, Lynn Billings, began to teach the Ovulation Method. which became more widely known and practiced in the 1970s
---
---
Further research, particularly by Dr. Tom Hilgers at the Pope Paul VI Institute in Omaha, has resulted in the development of the Creighton Method and the NaproTechnology approach to Natural Family Panning. (http://www.naprotechnology.com) Dr. Hilger's articles on the physiology and effectiveness of NFP have been published in respected, peer-reviewed medical journals.
---
---

6. THE THEOLOGY of the BODY

Pope John Paul II
FROM September 1979 to November 1984 Pope John Paul II devoted his Wednesday audiences to an in-depth biblical explanation of the mystery of marriage and human sexuality. This series of audiences is collectively known as the "theology of the body."
Inspired by Paul VI's statement in Humanae Vitae that the problem of birth regulation must be considered in light of a "total vision of man", John Paul's catechesis on the body seeks to provide a "total vision of man," or what he calls an "adequate anthropology."
---
---
At the present time efforts are being made in a variety of contexts to promote and encourage the practice of Natural Family Planning internationally and in a new social context. The use of contemporary technology and modern techniques of teachings are well-represented at the "FERTILITY FRIEND" website, where online teaching videos and as well as computer "APPS" and other downloadable products are available either free of charge of at minimal cost:
http://www.fertilityfriend.com/
---
This Webpage was created for a workshop held at Saint Andrew's Abbey, Valyermo, California in 2003....x.... ' "".