---

THE BLESSED
VIRGIN MARY in
CHRISTIAN HYMNODY and POETRY


Vladimir Theotokos icon
---
AVE MARIS STELLA
(Paul the Deacon c.720-c.800)
---
---
HAIL, star of the sea,

Nourishing Mother of God,

And ever Virgin

Happy gate of Heaven.

Ave, maris stella,

Dei mater alma,

atque semper virgo,

felix cœli porta.

Receiving that "Ave" (hail)

From the mouth of Gabriel,

Establish us in peace,

Transforming the name "Eva" (Eve).

Sumens illud «Ave»

Gabrielis ore,

funda nos in pace,

mutans Evæ nomen.

Loosen the chains of the accused,

Send forth light to the blind,

dispel our evil

Entreat (for us) all good things.

Solve vincla reis,

profer lumen cæcis,

mala nostra pelle,

bona cuncta posce.

Show yourself a Mother:

May he heed your prayers

Who, being born for us,

Is your own [son].

Monstra te esse matrem,

sumat per te precem

qui pro nobis natus

tulit esse tuus.

O unique Virgin,

Gentle above all others,

Free us from (our) sins,

Gentle and chaste.

Virgo singularis,

inter omnes mitis,

nos culpis solutos

mites fac et castos.

Bestow a pure life,

Prepare a safe way:

That seeing Jesus,

We may always rejoice.

Vitam præsta puram,

iter para tutum,

ut videntes Jesum

semper collætemur.

Praise be to God the Father,

To the Most High Christ (be) glory,

To the Holy Spirit

Honor, equally to you. Amen.

Sit laus Deo Patri,

summo Christo decus,

Spiritui Sancto

tribus honor unus. Amen.
---
One of the most popular Marian hymns, dating at least from the 9th cent. It is contained in the 9th-cent. Codex Sangallensis 95 and has been attributed to various authors, one of the most probable assignations being that to Paul the Deacon. The rhythmical hymn is a prayer of great simplicity and beauty for the maternal intercession of the Blessed Virgin Mary. In the Roman breviary it is one of the hymns for the Second Vespers of the Common of Feasts of the BVM.
Crit. text, with notes, in C. Blume, SJ (ed.), Die Hymnen des Thesaurus Hymnologicus H. A. Daniels und andere Hymnen-Ausgaben (AHMA 51, 1908: Analecta Hymnica Medii Aevi, ed. G. M. Dreves, SJ, and C. Blume, SJ (55 vols., Leipzig, 1886–1922); Register, ed. M. Lütolf (3 vols., Bern and Munich, 1978).), pp. 140–2. H. Lausberg, Der Hymnus 'Ave maris stella' (Abhandlungen der Rheinisch-Westfälischen Akademie der Wissenschaften, 61; 1976), with refs. A dal Zotto, 'Ricerche sull'auctore del l'"Ave Maris Stella" ', Aevum, 25 (1951), pp. 494–503; S. de lbero, OFM Cap., J. Garcia Garcia, E. R. Panyagua, CM, 'Estudio del' "Ave Maris Stella" ', Helmantica, 8 (1957), pp. 421–75. J. Szövérffy, Die Annalen der Lateinischen Hymnendichtung, 1 (1964), pp. 219 f., with further refs.
---
SALVE REGINA
(? Herman the Cripple c.1090)
---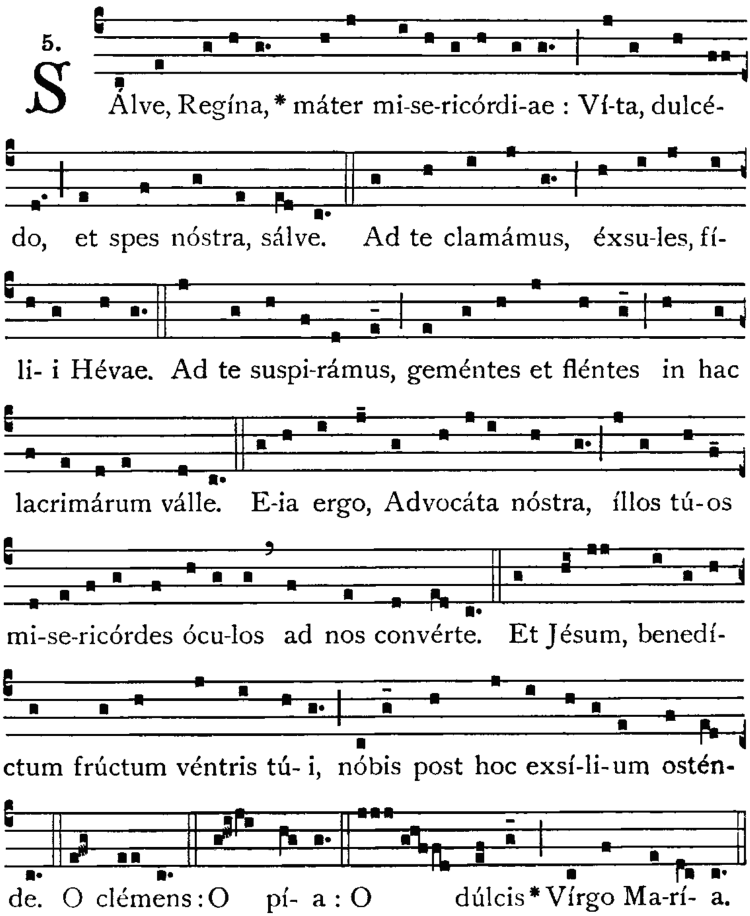 ---
(Lat., 'Hail, Holy Queen'). One of the oldest Marian antiphons, sometimes recited in the W. Church at the end of the canonical hours. It is among the most widely used Catholic prayers to the BVM, owing its popularity to its tender devotional language and beautiful plainsong. The earliest MS evidence is usually dated at the end of the 11th cent. The chronicle of Alberic of Trois-Fontaines (d. 1241) mentions the Salve Regina under the year 1130 in connection with a story about St Bernard, who is said to have referred to it as the antiphon of Le Puy ('Antiphona de Podio'), the famous pilgrim shrine of Le Puy-en-Velay. The authorship is unknown. It has been variously ascribed to Adhémar, Bp. of Le Puy (d. 1098), Peter, Bp. of Compostela (d. 1003), Herimannus Contractus, and St Bernard.
From the middle of the 12th cent. the Salve Regina was used by the Cistercians as an antiphon for either the Benedictus or the Magnificat on the four great feasts of the BVM and from early in the 13th cent. they sang it daily. It was adopted by both the Franciscans and the Dominicans. The Breviary of *Pius V in 1568 made it generally obligatory to recite the Salve Regina after Compline, and after Lauds on Sunday, from Trinity to Advent; in the 1971 Breviary it is one of five antiphons which may be used at the end of Compline. From 1884 to 1964 its recitation was also required after Low Mass.
Crit. edn. of text by G. M. Dreves, Lateinische Hymnendichter des Mittelalters, 2 (AHMA 50; 1907), pp. 318 f. J. de Valois, En marge d'une antienne: Le 'Salve Regina' (1912); J. Maier, Studien zur Geschichte der Marienantiphon 'Salve regina' (Regensburg, 1939); J. M. Canal, Salve Regina Misericordiae: Historia y leyendas en torno a esta antifona (Temi e Testi, 9; Rome, 1963). H. Thurston, SJ, 'The Salve Regina', The Month, 128 (1918), pp. 248–60 and 300–14; text (without illustrations) repr. in his Familiar Prayers, ed. P. Grosjean, SJ (1953), no. 7, pp. 115–45, with refs. I. Cecchetti in EC 10 (1953), cols. 1719–21, with bibl.
---
ALMA REDEMPTORIS MATER
(? Herman the Cripple c.1090)
---
---
---
Regina Coeli (Lat., 'Queen of Heaven'). The Eastertide anthem to the Blessed Virgin, so named from its opening words. In the Roman *Breviary its recitation after *Compline is prescribed from *Easter Day to *Whitsunday. It also takes the place of the *Angelus in Eastertide. Its authorship is unknown, but it probably dates from the 12th cent.
H. Thurston, SJ, 'The Regina Cœli', The Month, 121 (1913), pp. 384–8, repr. in his Familiar Prayers, ed. P. Grosjean, SJ (1953), pp. 146–51, with refs.
---
---
---
---
Developing Mariology - Marian Antiphons as Holy Troubadors
Ave Maris Stella very early: prob. Paul the Deacon (c.720–c.800) - late 8th-early 9th cent.
Herman the Cripple (1050) Sequence: Ave Praeclara Maris Stella
Perhaps:
- Salve Regina, (? c.1090)
- Alma Redemptoris Mater
Regina Caeli (? 1100s)
Ave Regina Caelorum (? 1100s)
This Webpage was created for a workshop held at Saint Andrew's Abbey, Valyermo, California in 2002....x.... ' "".