---

JEAN-ARMAND
LE BOUTHILLIER
DE RANCÉ, O.C.S.O.
1626-1700


Rance, Rigot
---
Modified from the entry in the 1917 Catholic Encyclopedia.
---
A

BBOT

and reformer of Notre Dame de la Trappe, second son of Denis Bouthillier, Lord of Rancé, Councillor of State, etc., b. at Paris, 9 Jan., 1626; d. at La Trappe, 27 Oct., 1700. Originally intended for the Knights of Malta, the illness of his older brother caused his father to dedicate him to ecclesiastical service, in order to preserve in the family the former's numerous benefices. On the death of his brother, 1637, he became Canon of Notre Dame de Paris, Abbot of La Trappe, and of several other places, which gave him a revenue of about 15,000 livres. He early gave evidence of great precociousness in study, publishing, at the age of twelve years, an edition of Anacreon, with Greek notes, dedicated to his godfather, Cardinal Richelieu.

In 1651, he was ordained priest by his uncle, the Archbishop of Tours. His ordination caused no change in his worldly manner of life. In 1652 his father died, leaving him a further increase in estate. At the age of twenty-six he was thus left absolutely his own master, handsome, urbane and extremely wealthy. Feasting and hunting divided his time with preaching and other sacerdotal ministrations. As he later characterized his life at this period: "In the morning, preach like an angel; in the afternoon, hunt like a demon." His uncle, who desired him as coadjutor, made him archdeacon, caused him to be elected deputy of the second order to the General Assembly of the French Clergy in 1655, and had him appointed first chaplain to Gaston, Duke of Orleans, in 1656.
---
Although he endured pangs of conscience for his worldly and even scandalous conduct, it was the death of his dear friend, the Duchess of Montbazon, in 1657, that provided the first impetus for his conversion. Nearly a century later an unsympathetic visitor to La Trappe, was offered the following account (the reliability of which has been much debated) by a monk of the community:
"The story that is told of the institution of this order is remarkable, and is well attested, if my information is good. Its founder was a French nobleman whose name was Bouthillior de Rance, a man of pleasure and gallantry, which were converted into the deepest gloom of devotion by the following incident. His affairs obliged him to absent himself, for some time, from a lady with whom he had lived in the most intimate and tender connexions of successful love. At his return to Paris he proposed to surprise her agreeably, and, at the same time, to satisfy his own impatient desire of seeing her, by going directly and without ceremony to her apartment by a back stair, which he was well acquainted with--but think of the spectacle that presented itself to him at his entrance into the chamber that had so often been the scene of love's highest raptures! his mistress dead - dead of the small-pox-disfigured beyond expression-a loathsome mass of putrified matter - and the surgeon separating the head from the body, because the coffin had been made too short! He stood for a moment motionless in amazement, and filled with horror - and then retired from the world, shut himself up in the convent of La Trappe, where he passed the remainder of his days in the most cruel and disconsolate devotion."
(Letter, August, 1740; Lady Mary Wortley Montagu Her Life and Letters (1689-1762), by Lewis Mellville, 1925)
He retired to his Château de Verets, where he gave himself to reflection on the vanities of life; put himself under capable direction, and began to live more in conformity with his obligations. In 1660 he assisted at the death of the Duke of Orleans, which made so great an impression on him that he said: "Either the Gospel deceives us, or this is the house of a reprobate" After having taken counsel, he disposed of all his possessions, except the Abbey of La Trappe, which he visited for the first time in 1662. He decided to become a religious, and obtained permission from the king, in 1663, to become its regular abbot and reformer. According to his own account it was on April 17, 1663, during the psalmody of the midday Office of Sext, that he was indelibly marked by the words of Psalm 124, "He who trusts in the Lord is like Mount Sion: he will last forever." It was at that moment that he decided to become a monk.
---
After having passed through his novitiate and made profession, he took formal possession of his monastery as its regular abbot, and began the work of its reform, which, after he had overcome immense difficulties, was solidly established in his own abbey, from whence it was adopted into numerous other monasteries. His time and energy were so taken up with this work that, during the first year of his retirement he obliged himself to an entire separation from the world. He devoted his spare time to manual labor, and to the compilation of spiritual books, including: "Vies de plusieurs solitaires de La Trappe"; "Le traité de la sainteté et des devoirs de la vie monastique"; "La règle de s. Benoît, traduite et explique selon son véritable esprit".
---
| | |
| --- | --- |
| | |
| Le Grande Trappe, 2000 | Cloister, 1880 |
---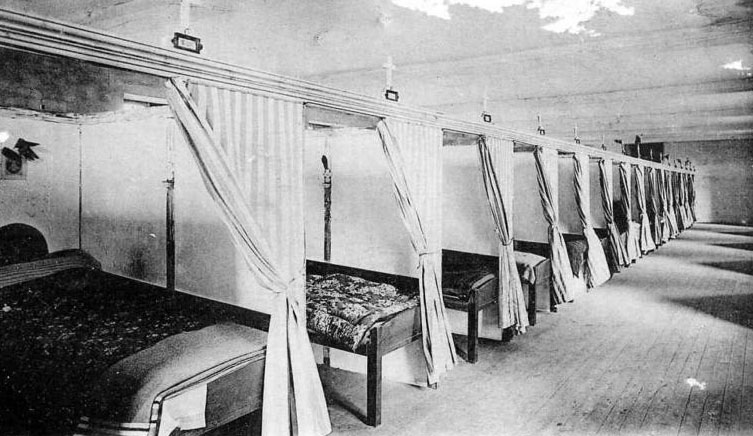 Dormitory, 1880
---
Refectory, 1880
HIS antipathy towards formal academic study in the monastery became the source of a controversy between himself and Jean Mabillon; however the controversy was settled amicably and each expresed profound respect for the other.
His penitential mode of life resulted in a accusation of Jansenism, but he refrained from defending himself, until finally, at the request of his most intimate friends, he wrote to the Maréchal de Bellefonds, stating that he had signed the "Formula" (against Jansenism) without restriction or reservation of any kind; adding that he had always submitted himself absolutely to those whom God had placed over him.
In 1695, feeling his health to be declining, he obtained permission from the king to resign his position, and for several years continued to give an example of humility and resignation. His remains are interred at the Monastery of La Grande Trappe.
Adapted from The Concise Oxford Dictionary of the Christian Church, ed. E. Livingstone, (Oxford, 1977), p. 97.
xxxx» cont
---
xcxxcxxc F " " This Webpage was created for a workshop held at Saint Andrew's Abbey, Valyermo, California in 1990....x.... ' "".